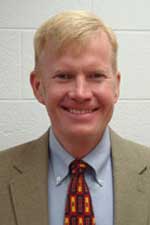 College Assistant Professor
Email: dbloomqu@nmsu.edu
575-646-5987
NMSU Courses Taught:
HRTM 430: Hospitality Facilities Management
HRTM 301: Hotel, Restaurant, and Tourism Marketing
HRTM 201: Introduction to Tourism
Areas of Focus:
Sustainable Facilities Management
Hospitality & Tourism Marketing
International Outreach
---
Mr. Daren Bloomquist, or Mr. B as his students call him, has been an instructor for The School of HRTM at NMSU since 1999. In addition to his coursework, he enjoys the international outreach projects he has been asked to develop and/or coordinate because of his great passion for helping others and expertise in these fields.  Some of these outreach initiatives include: a dual-delivery hospitality certificate program for select native pueblo member employees at Laguna Development Corporation's Route 66 Hotel and Casino; a Sustainable Tourism summer education program for NMSU students in Turrialba, Costa Rica at CATIE; a North American Mobility Project Tri-National Education Exchange between Canada, Mexico and the United States focusing on native populations and indigenous tourism; and, his most recent opportunity to develop and teach an intensive two-month experientially based coursework program of Hotel, Restaurant and Tourism Management topics to students visiting NMSU from Ecuador as part of the Go Yachay partnership between New Mexico State University and the Secretaria Nacional de Educacion Superior, Ciencia, Tecnologia e Innovacion in Ecuador.
Mr. Bloomquist exemplifies a true dedication for the spirit of hospitality, and believes strongly in giving back to his community.  He has been a volunteer fire fighter for over 20 years for the Las Alturas Fire Department where he is currently Assistant Chief, and is the current President of the International Facility Management Association's Hospitality Council.  Previously, he developed and taught in the Hospitality and Tourism Services Program at El Paso Community College until accepting the lead role in establishing the Hospitality and Tourism Program at Doña Ana Community College.
Education:
Master of Science in Hospitality and Tourism, University of Wisconsin - Stout, 1987
Bachelor of Science in Hotel and Restaurant Management, University of Wisconsin - Stout, 1985