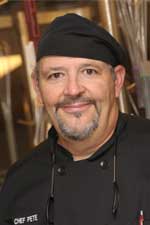 College Assistant Professor
Email: petemit@nmsu.edu
575-646-2379
Courses Taught:
HRTM 263 Food Fundamentals
HRTM 413 Restaurant Operations
HRTM 302 Hospitality Management Accounting
HRTM 492 Special Problems
HRTM 450 Special Topics
Areas of Focus:
Food Fundamentals & Nutrition
Kitchen Safety & Sanitation
Essential Cooking Skills
Restaurant Operations
Guest Service
---
Chef Pete Mitchell is the instructor for two applied skill-based courses for HRTM at NMSU including our International Dinner class. This class provides the opportunity for students to run a high end restaurant featuring varied types of cuisine inspired from around the world. This requires them to plan and test the menu, theme décor, manage the event, prepare, plate, and serve a formal five-course meal with wine pairings under his instruction. These events are open to the public and the successful execution of these high-end events are a huge contribution to our program.
Chef Pete Mitchell has over 30 years of combined experience in the hospitality industry that include food production management, food and beverage management, and sales management in retail. He has been teaching hospitality and culinary principles to students since 2001. In addition to his experience and leadership for applied skills, his expertise expands to online teaching, and studies such as his masters thesis on restaurant companies best utilizing their websites for marketing. Other research interests include food and beverage management, sanitation, safety, sustainability of natural resources in hospitality industries, and hospitality leadership. He has continued his professional development to teach and mentor non-traditional students for career success in the hospitality industry.
Education:
Masters of Hospitality Management from Conrad N. Hilton College of Hotel and Restaurant Management, University of Houston 2003
Bachelor of Science in Lodging, Restaurant, and Tourism Management, Northern Arizona University, 1980
Professional Certifications:
Certified Hospitality Educator (CHE)
Registered Sanitarian with the State of Texas
Certified Instructor and Proctor for ServSafeⒸ