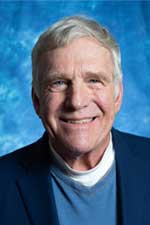 Professor
Email: kmandaba@nmsu.edu
575-646-2879
Courses Taught:
HRTM 410 Hospitality Cost Control
HRTM 420 Club Management
HRTM 412 Beverage Management
HRTM 450 Food and Wine Pairing
Areas of Research Focus:
Culinary Education
Restaurant and Bar Management
Use of Technology in Restaurants
History of Culinary Arts
Ethics and Media Influences on the Food Industry
---
Dr. Keith Mandabach is a Certified Chef and Hospitality Educator at The School of Hotel, Restaurant, and Tourism Management at New Mexico State University since 1998. He has combined experience of over twenty years as a practitioner in the industry. His passion for teaching, research, and community development is celebrated and recognized by his students, colleagues, and industry professionals through published research, community engagements, and educator awards. Beyond his role as an educator, Dr. Mandabach assists restaurant and bar owners as a consultant, writes and administers grants, and serves as an editor, symposium and paper review chair for conferences related to his extensive industry knowledge.
Dr. Mandabach is an enthusiastic traveler and generously chaperones student trips in the US and abroad annually. Other areas of research include Restaurant & Beverage Management, Culinary Tourism, Culinary Education, Food Service Management, Beverage Management, Purchasing, Sanitation, Food Allergies, Technology use in Hospitality, Ethics, The History of Culinary Education, Hotel Operations, and Foodservice Education.
Education:
Ed.D. in Educational Leadership and Cultural Studies with an Emphasis in Higher Education and History of Culinary Education in the US, University of Houston, 1998; M.S. in Hospitality Management and Finance, University of Houston, Conrad Hilton College, 1991, B.S. in Hotel/Restaurant Management, St. Edwards University. 1989