All students are encouraged to participate in the department's organizations: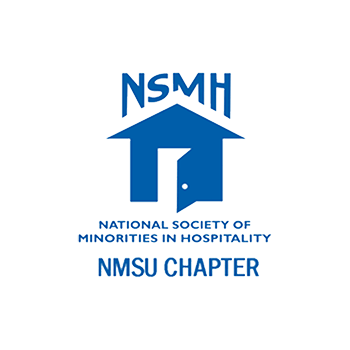 NSMH
National Society of Minorities in Hospitality
NSMH is a student-run, nationally recognized organization of students and professionals representing an array of social and cultural backgrounds and a wealth of unique perspectives and ideas. NSMH is proud of its diversity and believes it provides a competitive advantage in the hospitality industry. Consequently, we work to make the industry aware of the benefits that a diverse workforce provides in a business that caters to the world.
Our commitment is to educate in order to aid in the recruitment, retention, support, and advancement of minority students in the hospitality industry. As well as to build and maintain relationships between hospitality professionals and minority students in ways that encourages a lifelong commitment to the organization.
For more information, please contact:
Pete Mitchell
Chapter Advisor
Phone: 575-646-2379
Email: petemit@nmsu.edu
Eta Sigma Delta International Hospitality Management Honor Society
There are 6 points of honor that ESD students will recognize and shine:
Creativity
We light this candle in recognition of Creativity. We realize that our ability to think creatively will affect the future of our professions. Our innovation will lead to better decisions and outcomes.
Diversity-Equity-Inclusion
We light this candle to demonstrate our commitment to diversity, equity, and inclusion. We respect people, value diversity, and are committed to equality for everyone. By valuing our differences, creating equitable opportunities for everyone, and welcoming all in the true spirit of hospitality, we can be role models for others.

Ethics 
We light this candle to establish the commitment we have to Ethics. The consideration of the Ethics guides our personal and professional decision-making. May this final candle brilliantly light the way for each of us throughout our lives. 

Excellence 
We light this candle to represent our continuous pursuit of Excellence in all we do. Through the quest for Excellence, we pledge to uphold high standards for both academic and professional achievement. 

Leadership 
We light this candle as a hallmark of Leadership. A leader is like a light held high that brightens the way for others. Let us each pledge that in our personal and professional relationships; we will demonstrate the qualities of Leadership. 

Service 
We light this candle to acknowledge the importance of Service. After all, it is service that makes the hospitality industry unique. May our concern for others help promote our professional success and inspire us to lead lives of service.
Learn more at their National Website.
To find out more information about Eta Sigma Delta, please contact Dr. Keith Mandabach at kmandaba@nmsu.edu.
Other Student Opportunities
Other Professional Organizations
Many other professional organizations related to the hospitality industry offer discounted student memberships. They all provide wonderful opportunities to network with industry professionals and other students, participate in conference, and take advantage of other educational resources. Click the link below to see a brief summary of some of the most prominent organizations. The SHRTM would be happy to support groups of students interested in forming a chapter of any of these organizations on campus.